Concrete Saw Blades, Core Drills, Concrete Polishing Pads
Call Us Now - 800-214-9424
Concrete saw blades and core drills are a specialty of Wilder Diamond Blades. We supply the best diamond saw blades and core drills designed for the construction and concrete industries. We offer unmatched service and are committed to customer satisfaction, loyalty and integrity.
See a few of our most popular diamond saw and diamond tool products below. Call Wilder Diamond Blades today at 800.214.9424 and we will be happy to answer any questions about our stone products. You may also e-mail us at glenn@wilderdiamond.com .
Diamond Blades for Walk-Behind Concrete Saws & Wall Saws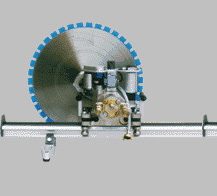 Wall saw blades are available for track mounted wall saws in sizes 12" to 84" in diameter for sawing concrete walls up to 39" thick. These wall saw blades cut quickly and accurately from any position and can be mounted for flush cutting next to a wall or along a floor where needed. These diamond wall saw blades make sawing fast and easy. These blades make demolition faster because they can make accurate cuts through reinforced concrete.
Our diamond wall saw blades are specifically designed to material hardness and horsepower of the saw used. Our wall saw blade bonds range from very soft bronze bonds for sawing hard aggregate or high-steel content concrete with low horsepower saws, to abrasive resistant bonds for sawing abrasive bonds for sawing abrasive rock walls with high horsepower saws. Flush cut arbors are available upon request.
List types and sizes here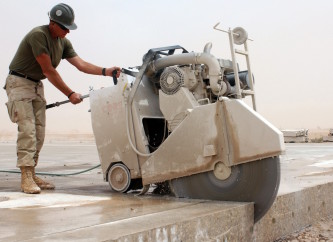 Diamond concrete saw blades must be top quality to take the punishment of cutting reinforced concrete and keep on delivering the performance you demand of a diamond saw blade. Wilder Diamond Blades manufactures concrete saw blades that can take the punishment and keep cutting quickly and evenly. Our concrete saw blades are made of the very finest German steel cores and specially selected industrial diamond segments to give you the best quality for your hard earned dollar. We invest liberally in R&D to insure you will be able to tackle the hard commercial jobs. We manufacture a wide range of sizes, qualities and different aggregates, and will build custom blades for your specific job need.
Call 800-214-9424 for Prices
Diamond Core Drill Bits & Core Drill Barrels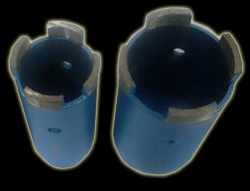 Diamond core drill bits are used to bore large holes in brick, concrete and stone. The bit consists of a metal cylinder, usually relatively soft steel mounted on an arbor with industrial diamonds embedded at the open end of the cylinder. Diamond core drills can be used with or without water lubrication. A 115 mm diameter core drill will bore a hole through a single-thickness brick wall in less than a minute, running at about 300 RPM. The resultant hole is very cleanly cut, and since very little of the removed core must actually be abraded, the power and operator effort required to drill a very large hole is reduced enormously, and the capacity of a given portable drill greatly increased.
Diamond Core Drill Bits and core drill barrels from Wilder Diamond Blades exceed industry standards in quality and workmanship, and will last much longer than thin imported core drills. Our heavy duty core drills have thicker walls, more diamond cutting power, and will not warp under heavy usage. Our core drills range size from 1/2" to up to 36" in diameter with any length barrel and any thread type. We build custom core drills to any specification, and also repair and service core drills.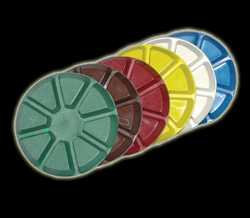 Diamond Concrete Polishing Pads
Diamond concrete polishing pads are now available for Lavina and other concrete polishing machines, including high performance pads, hot pressed resin pads, NATO shape pads, T-bone shaped pads, 9" polishing plates with terrazzo polishing plugs, resin bond plugs, metal bond plugs and buttons to fit the Lavina 9" polishing plate for the Lavnina 25 concrete polisher, high performance concrete polishing discs and pads for dry polishing and concrete grinding. Call Wilder Diamond Blades with any questions you may have about polishing pads or plates for any brand of concrete polishing machines at 800.214.9424.