Diamond Saw Blade Service, Diamond Segment Replacement
- Diamond Blade Re-tipping Service - On site or In Shop
- Diamond Saw Manufacturing, Core Drills, Diamond Segments & Bricks
- Diamond Wire Made To Order - 8mm - 10mm - 11mm

Call Us Now - 800-214-9424
Diamond Blade Re-tipping & Large Diameter Diamond Blade Manufacturing
Wilder Diamond Blades specializes in large diameter diamond blade manufacturing and re-tipping.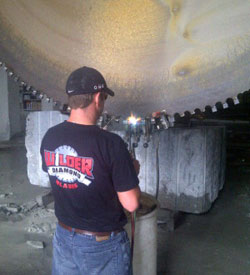 We are family owned and operated with over 60 years experience in the bluestone, granite, limestone, marble, sandstone and construction industries. Our owners have traveled extensively in the US and Canada to re-tip and straighten blades that our competitors claimed were un-repairable. We have a vast knowledge of most stones in the US and Canada, and our technicians have been trained in diamond blade re-tipping and German hammer smithing. Our Goal is to help make your business more profitable with the most efficient and longest lasting diamond blades and diamond tools on the market.
Re-Tip Diamond Saw Blades up to 13 ft In Diameter
Diamond segment re-tipping service includes, but not always necessary, checking for proper tension, run out (wobble), ect. If the blade is determined to be operational, we remove worn segments and re-tip with a variety of diamond segments depending on several factors, such as type of stone, horse power & machine parameters. We can also replace diamond segments on large core drill barrels.
| | |
| --- | --- |
| We also tip any size gang saw blades with the latest machinery available. We are the industry leader for re-tipping this type of blade in the US. | We also use the latest methods and machines to insure your blade is pre-sharpened, so it is ready to work at its optimal speed and production capacity as soon as you install it. |
Diamond Blade & Core Drill Re-tipping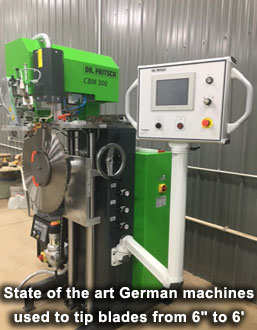 We can re-tip bluestone, granite, concrete, marble, sandstone, and limestone blades. We use heat induction to install segments, which allows us to control the heat used to solder the segments to the blade. If the blade is determined to be worn out, we can manufacture any size diamond saw blade a customer may need. If your saw is not performing as you think it should, please give us a call and we will try to help diagnose your problem over the phone and get your saw operating properly.
We are willing to travel if need be to service larger diameter diamond saw blades.
We can also re-tip core barrels with new diamond segments for core drilling stone or concrete.
Wilder Diamond Blades Guarantees Customer Satisfaction
Wilder Diamond Blades Products and Services are the best available in the Stone Industry
Wilder Diamond Blades Promises Superior Customer Service

Diamond Saw Blade Services For The USA & Canada
Wilder Diamond Blades specializes in large diameter diamond blades. We offer unmatched service and knowledge in the stone cutting industry. We offer the same big company benefits with small company values. Give our team of professionals who are committed to customer satisfaction, loyalty, integrity, quality and hard work a chance to earn your business today. Call Wilder Diamond Blades at 800.214.9424 if you have questions or to schedule services at your location.
Wilder Service Center Locations
Wilder Blades Corporate Office & Service Center
5638 State Route
Kingsley, PA 18826
Nicholson PA Service Center
733 State Route 2035
Nicholson, PA 18446
Salado TX Service Center
16519 S. Interstate 35 BLDG A
Salado, TX 76571