Diamond Saw Blades, Diamond Wire, Stone Tools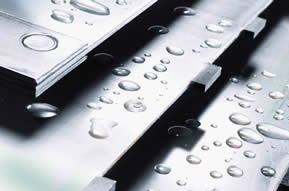 Wilder Diamond Blades specializes in manufacturing large diameter diamond saw blades and thin gang blades, but we also supply diamond wire, small diameter diamond saw blades, diamond profiling wheels, router bits and gauging & calibrating wheels. We offer unmatched service and knowledge in the stone cutting industry and are committed to customer satisfaction, loyalty and integrity.
See a few of our most popular stone industry products below. Please call Wilder Diamond Blades at 800.214.9424 and we will be happy to answer any questions about our stone products. You may also e-mail us at glenn@wilderdiamond.com
Call Us Now - 800-214-9424

Diamond Saw Blades Up to 13 Feet In Diameter
Wilder Diamond Blades are available in sizes ranging from 4" hand tool diamond blades up to the massive 13' diameter diamond stone blades used for cutting granite, bluestone and marble blocks and slabs. We manufacture the large diamond blades right here in the USA using the finest saw cores and industrial diamond segments available. These economical, fast cutting diamond blades are the key to higher profits for your bluestone, granite, marble sandstone, limestone quarry and fabrication operations.
We use the newest machinery and techniques to assemble each blade, and each individual segment undergoes tests to ensure that they are solidly fused to the center. The blade is then tensioned by hand to ensure it runs straight and true, and carefully sharpened to perfection for fast cutting even under tough conditions.
Diamond Blades Available

** Single Disk Diamond Segment Blades - 12" to 13' Diameters - German cores on blades 60" and up
** Thin Gang Blades - We are one of the largest producers of thin gang blades for stone cutting in the U.S..
** Small Diameter Diamond Blades - Continuous and segmented diamond blades for hand tools and bridge saws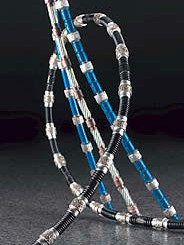 Diamond Wire - 8mm - 10mm - 11mm - ANY Length
Wilder Diamond Blades supplies electroplated and impregnated diamond wire for quarry, stationary, contour, multi-wire diamond wire machines in 8mm, 10mm and 11mm diameter sizes ANY LENGTH.
Electroplated diamond wire is the oldest wire. The beads are made of an annular steel support on which the diamond grains are deposited by electrolysis; they have a remarkable robustness and biting capacity. The electroplated diamond wire is perfectly suited for sawing soft stones. It is most efficient for small cuts and for squaring-off blocks (small curvature radius).
Electroplated wire has the double advantage not requiring more power than 25 hp and needing a very limited cooling (from 10 I minimum to 20 I/min.).
Impregnated diamond wire has been designed for working all types of stone (included the hardest and most abrasive ones) and for improving the mē sawn (some people call it the "long life" wire). The abrasive part of the bead consists of a ring with diamond impregnation the composition of which is similar to that of the segments of the gangsaw or circular saw blades.
** Economical advantage: the tool life of the impregnated diamond wire is often twice as long as that of the electroplated diamond wire; it costs however far less than twice the price of the latter.
** Technological advantage: the sawing speed of the impregnated diamond wire is practically constant during the whole tool life. Impregnated diamond wire requires a minimum power of 40 hp and a normal cooling, i.e. 20 to 50 I/min. according to the dimensions of the cut.
Diamond Segments Supplier For Stone Tools
Diamond Segments for manufacturing and rebuilding diamond blades, core drills and other stone tools are available from Wilder Diamond Blades in a variety of sizes and applications. These industrial diamond segments are made with high grade materials to ensure ease of installation and a quality finished product. These are the same high quality diamond segments we use to manufacture our custom diamond saw blades used for cutting bluestone, granite, marble, concrete, sandstone, limestone and asphalt. Call Wilder Diamond Blades at 800.214.9424 if you have questions or place your order for industrial diamond segments.
Diamond Tools for the Countertop Fabrication and Stone Industries
Wilder Diamond Blades supplies quality diamond tools for granite fabrication and stone industries at affordable prices. We rigorously test our products with dedicated local shops before they are put on market to ensure the best quality. The diamond tools we offer include diamond polishing pads, diamond slab polishing bricks, diamond grinding wheels, diamond saw blades, diamond core drill bits, diamond router bits, diamond contour blades, diamond CNC profiling wheels, concrete grinding wheels, concrete floor polishing pads and more. Call Wilder Diamond Blades at 800.214.9424 for diamond tools at great prices.

Profile Wheels for CNC, Routers and Saws
Diamond Stone CNC processing tools for computer numerically controlled (CNC) machines, routers and saws are being used more and more in the stone industry. Stone fabrication shops for granite countertops and bluestone countertops are becoming more and more mechanized and computerized. Wilder Diamond Blades manufactures and supplies high quality diamond tools and bits for CNC machines and Countertop fabrication machines.
CNC Profiling wheels available in a variety of sizes and shapes for granite and bluestone fabricating operations.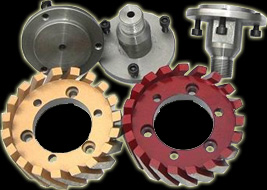 Gauging & Calibrating Wheels
High quality gauging wheels and calibrating wheels are necessary to ensure stone is the correct thickness. A must for all CNC Machines. Diamond Gauging wheels and Diamond Calibrating Wheels are available in many sizes, from 12" OD and 1/2" wide to 40" OD and 3" wide. These CNC Components are manufactured of quality materials and are guaranteed to be accurate and long lasting to improve the quality of your work and maximize your profits.
Call us today for CNC Tooling.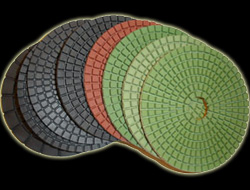 Diamond Polishing Pads & Polishing Bricks
Diamond polishing pads for granite polishing, marble polishing and concrete polishing. are available for application. Wet resin bond diamond polishing pads are for granite, marble, sandstone, limestone and concrete countertop polishing. Dry diamond polishing pads are used on job sites for polishing or concrete floors and countertops. Metal bond diamond polishing pads are used for wet polishing of hard granite and concrete. We also offer special types of diamond polishing pads for engineered stones, electroplated diamond polishing pads and special purpose polishing pads for granite & bluestone countertop polishing, memorial polishing, slab polishing and concrete polishing and cleaning.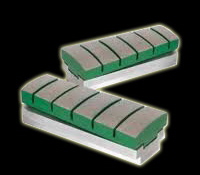 Diamond Polishing Bricks - Resin or Metal Bond
Diamond polishing bricks for granite slab & bluestone slab polishing are available in resin or metal bond. Fickert type diamond stone polishing bricks are used for polishing granite, marble and other types of stone slabs and tiles. These Fickert polishing bricks are designed for aggressive & high working efficiency, and are used in bed polishers with oscillating head, automatic polishers and slab line polishers. Our Fickert polishing bricks are also suitable for polishing tile floors to give the finest luster and superior polished surface. These high quality polishing bricks provide long life and to give the stone a quality finish.

Our Goal is to provide quality Diamond Saws and Diamond Tools to the bluestone, Granite, Stone, Concrete and Construction industries with the best prices, helping you be more profitable. We strive to provide superior customer service, to deliver our tools and services as quickly as possible and guaranteed customer satisfaction. Call Wilder Diamond Blades at 800.214.9424